The Steampunk & Victoriana Fair will be held on Sunday 25 October 2015.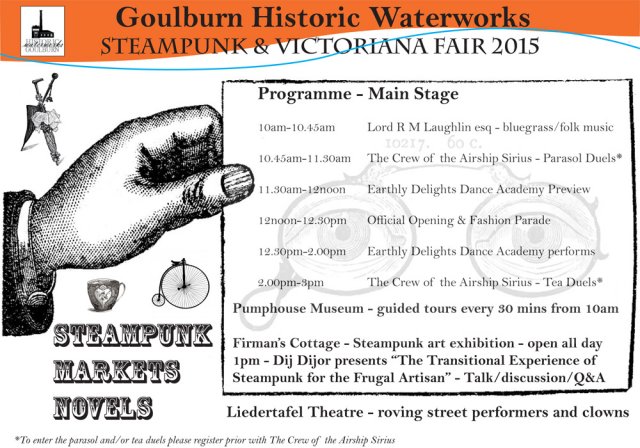 So far we have some amazing stalls, activities and music provided by:
Earthly Delights Dance Academy – dance and music from the Victorian era
The Crew of the Airship Sirius – tea & parasol duels
Skav's Steampunk Workshop – market stall
Della Mortika Steampunk Emporium – novels, jewellery, paper
Suitcase Dollhouse – gorgeous dollhouses in a suitcase
The Cauldron of Wellbeing – market stall – teas, steampunk items
Steampunk Novelist – Felicity Banks
John Kitchen and his penny farthings
Australian Great War Assoc – Victorian Navy
Steampunk Workshop with Dij Dijor
Leider Theatre – street performers
Bill Dorman – local artist
Barak Zelig – steampunk art exhibition
Big and small working steam engines
Kids activities and more to come!
Enter the costume parade
Ride the "steampunked" golf buggy
Readers Row
Food provided by the Youth Council, Scouts, Kids in Care.
Turkish pizza's and coffee van
27 September 2015
The Fireman's Cottage, former private residence and now museum facility, was offiically opened on 27 September 2015.
Currently on exhibition is "Hybrids" a Steampunk exhibition by Barak Zelig – this will run until 30 November 2015
We also have an exhibition which covers "The Museum of HIstoric Engines" which tells the story of the Waterworks as it was during the years of 1958-1975.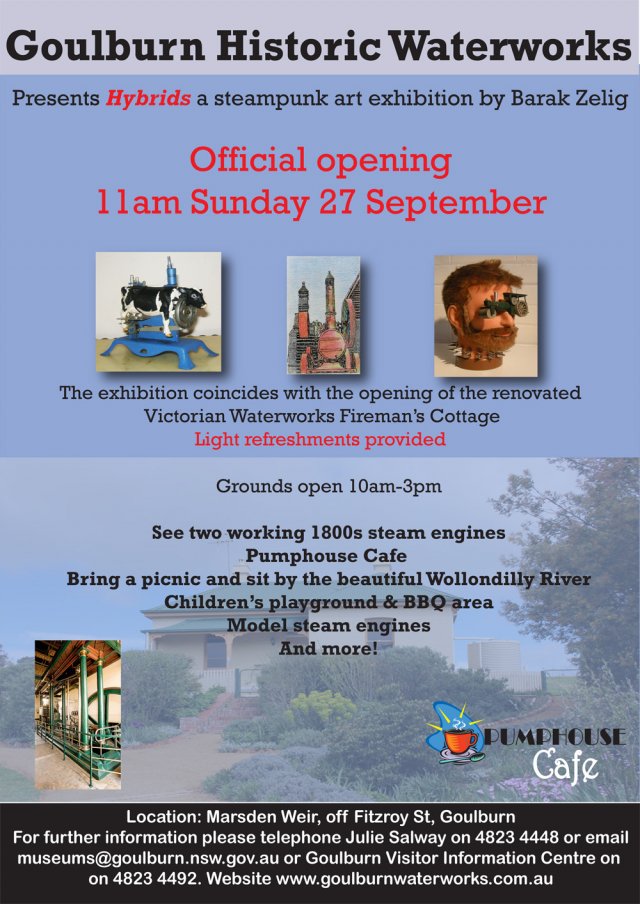 On 7 December 2014 we held our first, we hope of many, Steampunk & Victoriana Fairs. Click on the 'Gallery' tab to have a look at some photos taken on the day.
December 2013
2014 sees a change to our usual "steaming" schedule of once a month.
Until further notice we will now be "steaming" six times a year – dates are listed in the left hand column of this website.
27 February 2013
Goulburn Historic Waterworks- Human Connections: The Geoghegan Family covers the history of the Geoghegan family and the time they spent living and working at the Waterworks. Have a look at the recent article in the Goulburn Post http://www.goulburnpost.com.au/story/1325007/book-no-longer-a-pipedream/?cs=181
15 January 2013
Unfortunately, due to the possibility of a total fire ban being declared we have decided to cancelled our next steaming on 27 January.
We apologise for any inconvenience caused.
8 October 2012
Sydney Weekender recently visited the Waterworks. Click here for photos taken by Darryl Fernance, Goulburn Post.
The segment will go to air at 5.30pm on Saturday 24 November. Don't forget we are steaming the next day too!
16 July 2012
Two car clubs visited the Waterworks Sunday 15 July. They were the Campbelltown Historic Vehicle Club and the Goulburn Historic and Classic Car Club. A great day was had by all!
4 July 2012
PLEASE NOTE: THE STEAMING DAY SCHEDULED FOR SUNDAY 18 NOVEMBER HAS BEEN POSTPONED. NEW DATE WILL BE ADVISED ASAP. APOLOGIES FOR ANY INCONVENIENCE CAUSED.
21 March 2012
After an absence of over two years Sunday 18 March saw the return of the Appleby Bros beam engine and the Hick Hargreaves Corliss Valve Engine operating under steam. Geoff Kettle, Mayor of Goulburn and Pru Goward, Member for Goulburn were on hand to start the engines at 10am. Visitors to the Waterworks also enjoyed "The Happiest Music on Earth" provided by the "Australia Fair" Grand Concert Street Organ. While students from the Goulburn Regional Conservatorium entertained spectators of the engines in the Pumphouse Museum. Kids were in for a treat to with a free jumping castle and helium ballons. Speaking of treats the Pumphouse Cafe was flat out serving a variety of locally made food.
Photos taken on the day coming soon.
Next steaming 22 April.
15 March 2012
We're back and steaming!
Calendar of steaming dates for 2012 now available.
4/11/2011 Launch of new website
All scheduled steaming dates have been cancelled due to major repairs needed to get our old boiler working again. Grant funding will be sought to carry out these repairs. In the meantime the grounds and museum will still be open on Sunday, Mondays and Tuesdays. We apologise for any inconvenience caused.
25 May 2010
Website update
The Museum page has been updated to include the history of the museum.
14 December 2010
Waterworks Under Water
On Thursday, 9 December Goulburn had its wettest December day since 1971 resulting in the dramatic rise and speed of the Wollondilly River. By 7pm the Waterworks picnic and playground were literally under water and Marsden Weir could not longer be seen. By the following morning the river had subsided and the damage to the area could be seen. Trees were uprooted, gardens once tenderly cared for were now just a pile of mud and mangled fauna. Even a picnic table and awning was turned on its side concrete slab and all!
The saddest news was that we lost 'Thomas' our very popular blue train. He was spotted by several locals floating down the Wollondilly River and it is believed he made it all the way to Towrang. Good news was that today the ducks and their 11 babies returned to the now calm waters of the river. The grounds will reopen to the public, with limited access, on Saturday 18 December 2010. Photos coming soon.